Dear Pythonistas,
Thank you for your many (51!) great submissions!
The CfP closed on March 25 and we are now reviewing your proposals.
If you missed the deadline and still want to suggest a talk, please please get in touch with us through [email protected].
Stay tuned for further updates!
Your PyDays Vienna team
Call for Participation
We at PyDays Vienna share a passion for Python, Tech & Communities and are looking forward to a diverse line-up of speakers covering a wide variety of different topics.
Who are we looking for?
You are new to Python? You are a hobbyist programmer? You are a seasoned professional crafting software? You use Python for automation, web development or (data) science? You are interested in development processes or the inner workings of communities?
You are potential speaker!
We especially welcome talks from underrepresented groups within the tech community.
What are we looking for?
How about interesting use-cases? How about cool (new) tricks (or some old ones)? How about mistakes you made and what you learned from that? How about the art of writing beautiful code? How about teaching or getting better at what we do? How about community activities? How about technical/social challenges in software engineering?
See? There are plenty of educational and inspiring topics. Surprise us!
Don't forget, many of the things you do all the time may come natural to you can be of great interest to others. It all about sharing that knowledge - it's your conference after all.
Not convinced?
Then we would like to draw your attention to our mentoring initiative. Just contact us at [email protected] and we will be happy to help you with words and deeds. In particular, do not worry too much about whether we will accept your talk proposal, just submit anyway and leave the selection up to us. :)
Ready to submit your talk or workshop?
Please submit your proposal here (you need to register an account first, then "Submit a new event"). The call is open until Monday 25th of March 2019.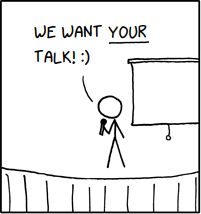 Additional Information
Language: Contributions may be in English or German; if possible German talks will take place on Friday.

Conduct: All Speakers must read, understand, and agree to our Code of Conduct (CoC) meaning that all talks and slides will need to respect our CoC. If you have any questions, please feel free to get in touch with us.

Duration: We offer 30 minute slots (20 minutes net time) and 60 minute slots (45 minutes net time). Duration will depend on topic and availability, please leave your opinion in the submission comment field.

Workshops: Longer, interactive workshops for tutorials or class-room like experiences are very welcome.

Review: All proposals will be carefully reviewed and selection will be based on merit and relevance while balancing for diversity. We aim to publish a preliminary schedule by the beginning of April.

Companies or employers: Please note that talk content should not directly be influenced by commercial interests. If your company or employer supported you giving the talk (e.g. you are allowed to prepare it during your work time), you are always welcome to mention this support in your talk or, for example, put a small logo on your slides as acknowledgement. However, everything beyond that, like advertisements or job announcements is not allowed. If you are interested in that and would like to learn more about sponsorship options, get in touch with us by writing to [email protected].

Pictures: During the talks, pictures will be taken and made public. If you do not want to be photographed, let us know.

Slides: Please make your slides available to the attendees by posting a link or uploading the file(s) to your profile. Our goal is to share knowledge and your contributions are vital to that. Since slides are published, do not use material that is protected by copyright.